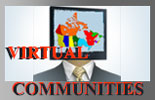 Discover the beautiful Bruce County a paradise for naturalists, photographers, scuba divers, golfers and fishermen.

Beautiful Bruce County is located only 2 hours northwest of Toronto and it is bordered by Lake Huron, Georgian Bay and the Niagara Escarpment.


Bruce County's shoreline is dotted with lighthouses, large and small, evidence of the importance of lake transportation.

Four of the six famous "imperial" lighthouses are here, constructed of dolomite limestone and granite.

Click on the following link to find out more, or to take memorable
Bruce Coast

Lighthouse Tour.
Come and discover the beautiful Ontario's sunshine coast with over 500 miles of majestic shoreline.
The Bruce Peninsula offers vacationers a wide variety of outdoor activities, rest and relaxation, sweet air and clear waters and unique type of scenery.

Play golf, take horse for a ride, swim in the clear water, soak up the sun on miles of white sand beaches or pack a lunch and travel backroads. Visit any one of the museums, historic sites, antique and craft shops and flea markets sprinkled around the Peninsula. Enjoy art shows, music festivals, village fairs, bake sales, flower and horse shows, dances and carnivals. Whenever you visit beautiful Bruce Peninsula you can count on warm welcome, comfortable accommodations, reasonable prices, scenic beauty and legendary sunsets.
Click on the product menu to the left to find more info about products and services we provide. Use the showcase menu to the right to see a selection of our example virtual tours and featured virtual tours.
If you believe that our reasonably priced quality Virtual Tour would add value to your business, we invite you to try out our services. We guarantee our services will meet or exceed your expectations!
Please feel free to order by using order buttons from the product menu to the left or to contact us if you want to explore more possibilities.