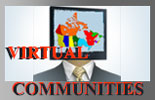 Local Community Info
Escape to great outdoors, history and culture, shopping, big or small town living or family fun and beautiful countryside. We are blessed to live in great place where pleasant surprises await you, your family and friends. Take the time to explore the quiet change of seasons where spring lambs and hummingbirds signal another wonderful year.

Here you will find variety of traditions in a pleasant mix, from traditions of Six Nations heritage, different varieties of ethnic culture, to Amish horse-drawn buggies and quilts. For the nature lovers there is a plenty of herbal, perennial attractions, wander acres of market gardens or pick your own orchards. Pack a picnic and enjoy lunch beside a quiet stream or explore our breathtaking hills and valleys. Fish our beautiful lakes and rivers, lunch your canoe or play on the beaches, but take the time to enjoy.

There is plenty of entertainment here. Visit art galleries, historical buildings and museums, enjoy theater in a picturesque town, snoop through quaint specialty shops, enjoy area's most popular festivals, have a splash in family fun park, voyageur canoe trip or dine at one of our local eateries. People are always welcome here, it doesn't matter if they are staying in our beautiful bed and breakfasts, hotels, motels or moving within the area, coming back to their roots, relocating, or visiting the area for business or pleasure. They are all delighted by our many offerings!


Take a Virtual Tour to Discover Local Communities

Communities:


Click on the product menu to the left to find more info about products and services we provide. Use the showcase menu to the right to see a selection of our example virtual tours and featured virtual tours.

If you believe that our reasonably priced quality Virtual Tour would add value to your business, we invite you to try out our services. We guarantee our services will meet or exceed your expectations!

Please feel free to order by using order buttons from the product menu to the left or to contact us if you want to explore more possibilities.