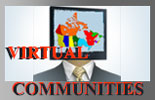 Virtual Communities
Promote your virtual presentations, Web sites and online marketing messages directly to prospective local audience and help your community at the same time. Your local community museums, art galleries, historical attractions, parks, playgrounds, local volunteer groups, events, churches, schools, towns and villages could all benefit from having virtual tours. Most of the time they are not in financial situation to afford all advertising they might need. Help them out and sponsor virtual tour for any community attraction or event and at the same time promote your business to your local community and beyond.

Browse Community Virtual Tours:


Click on the product menu to the left to find more info about products and services we provide. Use the showcase menu to the right to see a selection of our example virtual tours and featured virtual tours.
If you believe that our reasonably priced quality Virtual Tour would add value to your business, we invite you to try out our services. We guarantee our services will meet or exceed your expectations!
Please feel free to order by using order button from the product menu to the left or to contact us if you want to explore more possibilities.