A warm community feel and world of pleasures,
simple and rare await you in Stratford. A great community, Victorian in its roots, progressive in its attitudes and outstanding in its accomplishments. Stratford takes its place among the great cities of the world.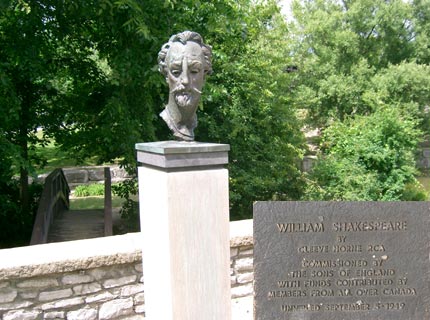 Standing high above the water's edge is the magnificient Stratford festival, one of the world's leading repertory theaters. The festival adventure began in 1953, in a tent; an affirmation of hope when a world war was still a recent memory. Many thanks are due to:
pioneers Tom Patterson, Tyrone Guthrie and Tanya Moiseiwitsch;
great citizens of Stratford who supported this dream;
the artists who made that first season a reality;
all the subsequent artists who have helped build this great Statford festival to what it is today;
and all the patrons, donors and audience without whom none of this would have been possible.


Visit: Festival Theatre, Avon Theatre, Tom Patterson Theatre and Studio Theatre. Find more info about Stratford festival at
www.stratfordfestival.ca