Adelaide S. Hunter
Hoodless Homestead

R, R, 1 Blue Lake Road, St George, ON., N0E 1N0
(519) 448-1130
Adelaide Hunter Hoodles, founder of the first Women's Institute, was born here in 1875. The Homestead was purchased by the Federated Women's Institutes of Canada in 1959, has been restored and furnished in the time period when Adelaide resided there.
The Canadian Military Heritage Museum & Canadian Vintage Motorcycle Museum
347 Greenvich Street, Bldg. 19, Brantford, Ontario
(519) 759-1313, (519) 759-3535
Experience Canada's military heritage, from the United Empire Loyalists of the 1700's to the peace keepers of today. An impressive 13,000 sq. ft. facility with a collection of more than 10,000 artifacts. The Canadian Vintage Motorcycle Museum highlights the development of the motorcycle for military and civilian use.
Her Majesty's Royal Chapel
of the Mohawks
291 Mohawk St. Brantford, ON., Odrohekta, P.O. Box 480, Ohsweken, N0A 1M0
(519) 758-5444
Built in 1785, this is the first Protestant Church in Ontario and the only Royal Chapel in the world belonging to Native people. It is widely known for its eight stained-glass windows depicting segments from the colorful history of the Six Nations people. The chapel is situated on the site of the original Mohawk Village.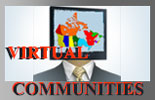 Brant County Museum
& Archives

57 Charlotte Street,
Brantford, ON., N3T 2W6
(519) 752-2483
The museum portrays the history of Brant County from pioneer days to the 1930's. Educational programs, public workshops, research facilities, special events, a very fine Six Nations Indian collection and an excellent collection of Brantford pottery make this museum one of the finest in Ontario.
Myrtleville House Museum

34 Myrtleville Drive, Brantford, ON., N3V 1C2
(519) 752-3216
Myrtleville House is a historic farmstead built by the Good Family who emigrated from Ireland. Situated on 6.5 hectares of wooded parkland, Myrtleville houses a workshop which includes a black-smith shop, reconstructed ice and smoke houses and an outdoor oven. The main building is fully furnished 1837 Georgian Style farmhouse with many heirlooms including books, glass, silver and pictures.
Woodland Cultural Centre
184 Mohawk St., Brantford, ON, P.O. Box 1506, N3T 5V6
(519) 759-2650
Originally serving as a boarding school in 1831 for Native Children, the Woodland Cultural Centre now is a museum containing exhibits which depict the native culture and heritage of the First Nations of the Eastern Woodlot Area. Themes of art, history, science and popular culture are presented through various collections.
Kanata Village
440 Mohawk St., Brantford
An authentic Iroquoian village on property located on Mohawk Street close to Her Majesty's Royal Chapel of the Mohawks in Brantford. Visitors could participate in many activities and enjoy nature trails.

Bell Homestead

National Historic Site
94 Tutela Heights Road, Brantford, ON., N3T 1A1
(519) 756-6220
It was here in the summer of 1874 that Alexander Graham Bell conceived the principle of the telephone. The home is furnished as it was when the Bell Family lived there with 90% of the items being original. Adjacent to the home is the Henderson House, the first telephone office in Canada. The world's first long distance call was made by Bell from Brantford to Paris, Ontario, in August 1876.
The Glenhyrst Art
Gallery of Brant

20 Ava Road, Brantford,
Ontario, N3T 5G9
(519) 756-5932
Serving as the public art gallery for Brantford and Brant County, Glenhyrst's permanent collection comprises Canadian contemporary works on paper and paintings by Robert Reginald Whale and his descendants. Visitors will enjoy changing art exhibits, beautifully landscaped grounds and outdoor sculptures.
Sanderson Centre For The Performing Arts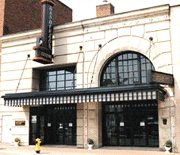 88 Dalhousie St., Brantford, ON.
(519) 752-9910;
(519) 759-8090 Box Office
Built in 1919, the original building was transformed from a vaudeville house to a movie theatre. In 1986, the City of Brantford purchased the facility and restored it into a magnificent live 1134 seat performing arts centre featuring a wide variety of matinee and evening entertainment.