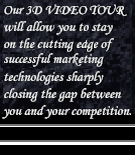 Featured Listings
Once you have a virtual tour, your listing is placed here on FEATURED LISTINGS for the life of the listing (with up to twelve months complementary web hosting, if you want longer, hosting after that costs just $12/ per year for a typical tour).

With virtual tour you have essentially created an online open house that buyers can conveniently experience 24/7 from their home or office computer. You could even invite potential buyers to your open house directly from your virtual tour. Virtual tour will never be a 100% substitute for a personal walk through, but it is an essential first step for helping a clients to find the listings that fit their needs and taste.

With Click Virtual Tour, you can go back and edit your virtual tour as often as you want. From our members area you will have full control over some important parts of your Click Virtual Tour Listing, 24 hours a day. For example: opportunity to put SOLD sign up, update pricing, put on open house details etc.